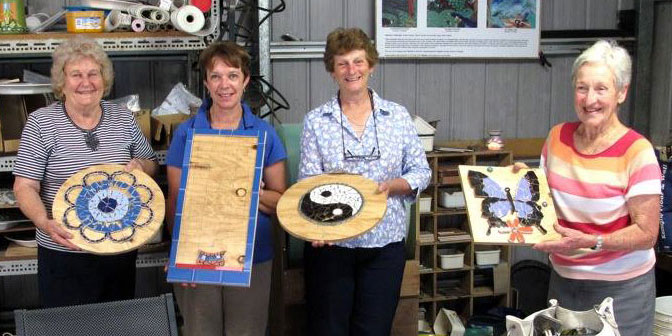 Discover, rediscover or explore your creative side – learn how to mosaic!
We all have a creative side – it's just that it often gets crushed by our busy modern lifestyle. Get away from it all (even if only for a little while), relax, and try your hand at learning mosaics. It's a guaranteed stress buster!
Learn how to mosaic at home through my classes, eBooks, and designs, I can deliver All-in-one mosaic kits Australia wide, or come to beautiful Maleny Qld and create whatever you want in my weekly class!
Free basic online classes so you can create your own mosaics wherever you are in the world, and a selection of eBooks for sale to expand your knowledge.
For relaxation, creativity, and fun! I can deliver an all-in-one mosaic kit to your door. Also makes a fantastic gift for a loved one.
If you're within range of Maleny you can join Monday morning classes. Make what you want and at your own pace.
A selection of free patterns and printable mandalas, full design kits, and an article about generating your own mosaic designs.